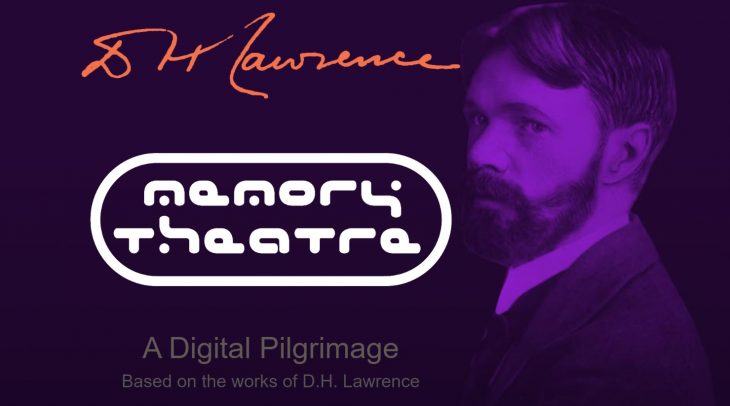 The D.H. Lawrence Memory Theatre: Rethinking Literary Heritage and the Traditional Dissertation | Paper
James Walker
Introduction
I specialise in literary heritage projects and am particularly interested in how digital can help improve the accessibility and understanding of key literary texts. Recent work includes Dawn of the Unread, an online graphic novel serial celebrating Nottingham's literary heritage and which created placements for over 200 students and the Sillitoe Trail, which explores the enduring relevance of Alan Sillitoe's Saturday Night and Sunday Morning (1958) via a smartphone app. Underpinning all these digital projects is a simple ethos: If the 20th century was about knowledge, the 21st century is about experience (Walker, 2014). The advent of social media means that audiences are now producers as well as consumers (Rosen, 2008) and expect to be part of the conversation. These principles are becoming increasingly more important in education due to demands from government and professional labour forces for more pragmatic learning experiences and greater emphasis on employability skills (Ashford-Rowe, Herrington, & Brown, 2014). This has led to more traditional assessments being replaced with 'authentic assessments' that provide students with challenging tasks that closely resemble a workplace setting while equipping them with essential skills for a professional career (Wiewiora & Kowalkiewicz, 2018).  
I was employed by Nottingham Trent University to create modules that provide opportunities for students to work on 'live' digital heritage projects I am currently working on. This not only provides an 'authentic' experience and a broad range of competencies that prepares them for the creative industries but also gives them credits of working on a 'real' project.  
In this paper I will explain this process by first providing context to a literary figure I have been researching since 2019. Then introduction of the problem: how to find an appropriate way of celebrating the heritage of this literary figure. Lastly, how this literary heritage project has been embedded into an English/Creative Writing module to create an authentic experience for students.     
D.H. Lawrence: The Literary Figure
D.H. Lawrence (1885 – 1930) was a prolific writer from my hometown of Nottingham. During his short life, he published twelve novels, ten poetry collections, ten short story collections, four travel books, eight plays, and a wide variety of non-fiction that ranged from literary criticism to psychoanalysis. Then there are the eight volumes of collected letters, the novellas, the translations of Giovanni Verga (among others) as well as the posthumous publications. Not bad considering his first publication was in 1911 and that he would be dead nineteen years later.  
Given his phenomenal output, it is little wonder that critics cannot agree on his true value. This is perhaps what prompted F. R. Leavis to adapt the dictatorial title of D.H. Lawrence: Novelist (1955) for his seminal work of literary criticism. He was under no illusions of Lawrence's value and demanded he be restored to the Canon. However, Leavis's study also analyses Lawrence's short stories, suggesting his definitive claim of 'novelist' was misleading. The purpose of this paper is not to pass judgement on whether Lawrence's real value lies with his novels, poetry (Chaudhuri, 2003) or theatre (Moran, 2015), rather to ask how best to celebrate the work of a writer for whom no consensus can be found.   
This problem becomes more complex when we try to understand Lawrence's cultural value. After his death a series of memoirs were published by close friends (Luhan, 1932, Carswell, 1932, Brett, 1933) as well as a hagiography (Murray, 1931) which mythologised him even further. As Geoffrey Trease observed, "All those books, though they preserved a wealth of facts, were to some extent distorted by love, hatred, jealousy, resentment or revenge. It was sometimes hard to believe that they were describing the same person." (1973, p.15). Lawrence was an enigma, leading Raymond Williams to observe "if there was one person everybody wanted to be after the war, to the point of caricature, it was Lawrence" (1979. P.126) whereas Lawrence's close friend Aldous Huxley observed, it's "remarkable how everyone who knew Lawrence felt compelled to write about him? Why, he's had more books written about him than any writer since Byron" (2021, p.1).   
Lawrence is perhaps best known for his last novel, Lady Chatterley's Lover (1928), which details an illicit love affair and explicit language about sexual acts. This was enough to frighten off publishers of the day, though the most offensive notion was the suggestion that an upper-class woman would find a working-class gamekeeper emotionally and physically attractive. Lawrence had the novel published privately in Italy but readers in the UK would have to wait until 1960 when Penguin Books won an Obscenity Trial and were legally allowed to publish the book for the first time. It paved the way forward for the permissive society and Lawrence became forever associated with freedom of speech. At the time of writing, there are 12, 900 articles in the Google scholar database just about Lady Chatterley. The most disparaging of these is Kate Millett's Sexual Politics (1970) which provides a damning critique of patriarchy in Western society and literature. Lawrence, the self-proclaimed 'Priest of Love', was accused of misogyny and sexism. His reputation never quite recovered, until now. His writings on nature and the dehumanising effects of capitalism have once more rendered him popular in the imagination of a new generation concerned with climate change and inequality. 
The purpose of this very brief sketch of Lawrence's oeuvre is to outline the following points: Lawrence is a writer whose work crosses literary genres, whose popularity waxes and wanes each decade, and who arouses adoration and contempt in equal measures. He is a disruptive and divisive force within literary culture and almost impossible to pin down and classify.  
D.H. Lawrence: The Literary Life
There is another important facet of Lawrence's life that needs to be considered when constructing a potential literary heritage project about him and that was his restlessness. He confesses this in the opening line to Sea and Sardinia which opens with, "Comes over one and absolute desire to move (…) Why can't one sit still?" (1921, p.1). Lawrence placed himself in self-imposed exile in 1919 when he left Britain for good and embarked on a 'savage pilgrimage' that would see him move across the globe, living in Europe, Australia, and New Mexico. He was driven by a desire to find 'rananim' – a community of like-minded people – who would help to rebuild a new world free of the disruptive forces of modernity and war. There were other reasons for his restlessness, not least his health. He sought out warmer climates and cleaner air than the industrial Midlands to help him fend off the tuberculosis that would eventually take his life in 1930 (Ellis, 2008). It's important to emphasise that Lawrence was in absolute denial about his poor health throughout his life, claiming his TB was bronchial. But illness had a spiritual and psychological effect on him, too. This is best exemplified in his poem 'Healing' (1994, p.513): 
"I am not a mechanism, an assembly of various sections. 

And it is not because the mechanism is working wrongly, that I am ill. 

I am ill because of wounds to the soul, to the deep emotional self"
This meant that Lawrence wasn't simply trying to escape to a warmer climate where he could put his feet up. He was in search of somewhere that would satiate his soul and for this reason described his exile as a 'savage pilgrimage'. Unsurprising, he was unable to find peace anywhere and moved back and forth between Europe and America in the early 1920s. It was this that led Dyer to observe he was "nomadic to the point of frenzy" (1999, p.157). Catherine Carswell, a close friend, suggested Lawrence "disliked an air of everlastingness about a home. For him it must have something of the tent about it" (1932, p.26). Dyer would later observe that this created an amusing contradiction in that "while he may not have owned a house, the Lawrences' constant moving obliged them to keep making home. It is typical of Lawrence that, on the one hand, he became more and more anxious about finding a place to settle and, on the other, achieved the ideal condition of being at home anywhere" (Dyer, 1997, p.95). It is for these reasons that I wince every time I hear plans for yet another statue of him to be erected (Walker, 2021). D.H. Lawrence was not static. He was fluid. To cast him in bronze and cement him to the spot goes against the very essence of his being. An alternative and more suitable form of heritage is required.  
Methodology: The 'Moveseum'
This paper argues that any literary heritage which celebrates D.H. Lawrence's life needs to reflect his restlessness in the design. The form must reflect the content. Likewise, rather than write another linear biography we need to find a medium which not only brings 'audiences into the conversation' but provides a means of exploring the contradictions, complexities, and negotiated meanings of his importance as a writer. My solution is a 'moveseum' called the D.H. Lawrence Memory Theatre, whereby Lawrence's life is curated through artefacts. This concept is inspired by Cabinets of Curiosities and Lawrence's personal travel trunk.   
Cabinets of curiosities (also known as Kunstkabinett, Wunderkammer; Cabinets of Wonder, and wonder-rooms) were decorative cabinets that allowed collectors to accumulate, define and classify objects through symbolic decorative schemes. However, "their intention was not merely to define, discover and possess the rare and unique, but also, and at the same time, to inscribe them within a special setting which would instil in them layers of meaning" (Mauriès, 2011, p.25). The cabinets provided the world in miniature and their curation bestowed the owner with knowledge and power. Selected guests were invited into homes to view these collections. With social capital came theatrics on the part of the collector: "It was now considered the height of good taste for the host to deck himself out in some of the choicest items of ethnographical interest in his collection – feather headdresses, tunics, and the like – in order to provide a running commentary on the history and provenance of each of his objects." (Mauriès, 2011, p. 191).  
When Lawrence travelled the globe, he packed up his minimal possessions into a monogrammed travel trunk. It has five drawers in one half, which would have contained manuscripts and clothing. The other half has a hanger for trousers and suit. His initials – very appropriately D.H.L – are on the outside. It takes centre stage at the D.H. Lawrence Birthplace Museum and is a work of art in its own right.  
In the D.H. Lawrence Memory Theatre we want to curate Lawrence through artefacts. This will allow us to explore his life and writing through themes rather than chronologically. But whereas the curation of early iterations of memory theatres were about exclusion, privilege and raising the social status of the owner, we want to invert this process through an open submissions policy whereby anyone can submit ideas. This will create a space for contributors to provide their own definitions and categories and hopefully capture a diverse range of opinions.  
The D.H. Lawrence Memory Theatre will have a physical existence – based on Lawrence's travel trunk – as well as a digital existence, whereby it can be accessed across multiple platforms, devices and networks and in varying formats and lengths. It can be accessed via the project website, blog, YouTube channel and Instagram account. Indeed, Instagram – a photo-sharing social network owned by Facebook – is in many ways a modern cabinet of curiosity in that people curate their lives and invite others to view them. But this is a public rather than private space.  
Most importantly, the D.H. Lawrence Memory Theatre will move and retrace Lawrence's footsteps across the globe, visiting the cities and homes he lived in. Those unable to see it in person can view it online. 
Locating Lawrence: Trace Lawrence via his letters, 100 years to the month. Their purpose is to make original sources more accessible to students.
The Authentic Assessment and Dissertation
The memory theatre is currently being built and designed in collaboration with English and Creative Writing dissertations students at Nottingham Trent University, thereby disrupting not only the structure and format of the traditional dissertation – the ways in which we test knowledge – but also encouraging them/us to think about the most appropriate way to celebrate literary heritage.  
According to Burton (2011), the authenticity of a task is established by considering four questions:  
Does the activity depict real context or not? 

 

How is the final output produced? 

 

Does critical reflection or metacognition take place or not? 

 

Do the activities demand cooperation and discernment?

 
I have taken these questions into consideration when creating the module and devising the assessments. Firstly, students take this module so that they can gain real experience of working on a 'live' literary project. We go through the basics of putting together a project and touch on topics such as project management, stakeholder theory, design thinking, audience engagement, applying for funding, editing and curation.  
For the module assessment, students produce a project portfolio that explores the memory theatre from three perspectives: Design, artefacts, travel. 
Although I intend to replicate Lawrence's travel trunk once I begin making the memory theatre – plans that have been put on hold since covid – students come up with their own designs. They consider the aesthetics and functionality of the memory theatre and then cost it up. This might involve having it built out of a relevant material, such as a type of tree mentioned in one of his poems. They may suggest shaping it like a phoenix, to represent his personal emblem. The important point is that they back up their choices with evidence and relate it back to literary texts.  
They must select five artefacts for inclusion in the memory theatre and justify their reasons through a close reading of Lawrence's text. As this is a travelling memory theatre, they have to consider how audiences will interact with each artefact and how this will add value. The more people interact with the artefacts on the journey, the more they grow in provenance. For example, Lawrence was passionate about nature. In 1918, he sent a gift to Catherine Carswell which she records in her memoir:  
"With my box of Derbyshire flowers there was a small floral guide, written by Lawrence, describing each plant and making me see how they had been before he picked them for me, in what sorts of places and manner and profusion they had grown, and even how they varied in the different countrysides." (1932, p.130) 
We will include a book of pressed flowers as one of our artefacts. Our first ten cuttings will come from Derbyshire, to make the link with the letter. They will be collected by a local botanist and given descriptions. Then, when the memory theatre moves to its next destination, ten more flowers will be collected, thereby ensuring that the artefact continually transforms and grows in meaning at each new location as new people interact with it. This also means that a literature project starts to broaden out to include botanists or gardeners, thereby ensuring Lawrence's heritage reaches new audiences.    
The final aspect of the report requires students to list four locations the memory theatre will visit. These might include a specific address, such as the birthplace museum, or an art gallery in a city he lived in, to ensure it reaches a larger audience. They also map out the logistics of this journey: the cost of transporting the memory theatre and how and why their location is relevant. This puts the students in the position of curators and developing their own themes and categories. 
This form of authentic assessment has two clear advantages for students. Firstly, it equips them with the basic skills and knowledge to create a digital literary heritage project of their own upon graduation, thereby providing the determination and motivation to learn (Ashford-Rowe et al., 2014) as well as the professional skills to succeed in the workplace (Gulikers et al., 2008; James and Casidy, 2016). Secondly, it provides students will an alternative means to demonstrate academic knowledge and creativity. Different types of assessment illicit different types of response as "it allows students to interact with the information in different ways, linking it to experience and to other kinds of contexts. It embeds the concepts better, deepens understanding and allows for new perspectives on old knowledge". (English, 2011, p. 207-208).
The Student Visual Essay: These short videos are created by students as part of their project portfolio. They can be used to show employers a broad range of skills: script writing, recording, editing, promotion.
James Walker is a senior lecturer in digital humanities at NTU. He creates modules with a strong employability focus that create opportunities for students to be actively involved in his digital literary projects. He is the author of Dawn of the Unread, winner of the Teaching Excellence Award at the Guardian Awards and more recently, The Loneliness of the Lockdown Runner (told on Instagram and Twitter)
The D.H. Lawrence Memory Theatre is a collaboration between James Walker and Paul Fillingham. www.memorytheatre.co.uk
References
Ashford-Rowe, K., Herrington, J., Brown, C., 2014. Establishing the critical elements that determine authentic assessment. Assessment & Evaluation in Higher Education, 39 (2) (2014), pp. 205-222. 
Brett, D., 1933/2006. Lawrence and Brett: A Friendship. Sunstone Press. 
Burton, K., 2011. A framework for determining the authenticity of assessment tasks: Applied to an example in law. Journal of Learning Design, 4 (2011), pp. 20-28. 
Carswell, C. 1932. The Savage Pilgrimage. London: Martin Secker. 
Chaudhuri, A., 2003. DH Lawrence and Difference'. Oxford University Press. 
Dyer, G., 1999. Anglo-English Attitudes: Essays, Reviews, Misadventures. 1984-1999. London:  Abacus. 
Dyer, G., 1997. Out of Sheer Rage. Canongate. 
Ellis, D., 2008. Death and the Author: How D. H. Lawrence Died, and Was Remembered. New York: Oxford University Press.
English, F., 2011. Student Writing and Genre: Reconfiguring Academic Knowledge, London: Bloomsbury Academic, Bloomsbury Collections. 
Gulikers et al., 2008 The effect of practical experience on perceptions of assessment authenticity, study approach, and learning outcomes. Learning and Instruction, 18 (2) (2008), pp. 172-186.
Huxley, A., in Wilson, F., (2021) The Burning Man: The Ascent of D. H. Lawrence. Bloomsbury Circus. 
James, L.T., Casidy, R., 2016. Authentic assessment in business education: Its effects on student satisfaction and promoting behaviour. Studies in Higher Education, 43 (3) (2016), pp. 401-415. 
Lawrence, D.H. 1921. Sea and Sardinia. New York: Thomas Seltzer. 
Lawrence, D.H. 1960 Lady Chatterley's Lover. Penguin Books. 
Lawrence, D.H., 1994. The Complete Poems of D.H. Lawrence, United Kingdom: Wordsworth.
Leavis, F.R., 1968. DH Lawrence: Novelist. Penguin Books. 
Luhan, M.D., 1932/2007. Lorenzo in Taos. Sunstone Press. 
Mauriès, P., 2011. Cabinets of Curiosities. Thames and Hudson Ltd, London. 
Millett, K., 2016. Sexual Politics. Columbia University Press. 
Moran, J., 2015. The Theatre of DH Lawrence: Dramatic Modernist and Theatrical Innovator. Bloomsbury Publishing. 
Murry, J.M., 1931. Son of Woman: The Story of DH Lawrence. J. Cape & H. Smith.  
Rosen, J., 2008. "The people formerly known as the audience." In Participation and media production: Critical reflections on content creation. Cambridge Scientific Publishers Ltd.  
Sillitoe, A., 1958. Saturday Night and Sunday Morning. W. H. Allen Ltd.
Trease, G., 1973. The Phoenix and The Flame. Macmillan London Ltd.
Walker, J., 2014. Dawn of the Unread: A Manifesto, Durham University Beyond Crisis: Visions for the New Humanities, 8-9 July 2014.
Walker, J., 2021. 'How Best to Celebrate Literary Heritage?' The Journal of D.H. Lawrence Studies. Vol. 6. No. 1.
Wiewiora, A., Kowalkiewicz, A., 2018. The role of authentic assessment in developing authentic leadership identity and competencies. Assessment & Evaluation in Higher Education. (2018), pp. 1-16.
Williams, R., 1979/2015 Politics and Letters: Interviews with New Left Review. Version London New York.